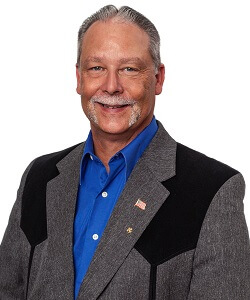 President
Dan Furtado
Dan Furtado was born and raised in northern California on a small dairy farm outside of Willows. Dan and his wife, Denise have been married for 33 years and still live in the town of Willows where they have raised two wonderful children. Dan and his wife currently have three beautiful granddaughters and four dogs. Dan entered the insurance industry in 2008 specializing in life and health products. Dan currently manages a small book of business at Heritage Insurance Agency in Chico and specializes in small group and Medicare products. Dan is also working on his REBC designation through NAHU.

Immediate Past President
Leanne Chrisman
Leanne began working in the health insurance industry in 1997 and is owner and s currently president of Healthy Solutions Insurance Services. She has lived in Chico since 1980 with her husband of 33 years, and is the mother of two grown children. Her commitment to clients and her community is evidenced by the Chamber of Commerce Community Service award she received in 2010, and her thirteen-year commitment to the Rotary Club of Chico. Leanne continues to be an active member of the Chamber legislative committee and an active participant in her church. Leanne's professional goal is to have not only satisfied clients, but clients who will say, "I don't know what I'd do without you!"

VP Membership
Adam Brubaker
Adam is an employee benefits expert specializing in voluntary benefits for both small and large companies in the greater Chico area. He has mastered the art of adding a warm personal touch to a topic that isn't always warm and fuzzy, "Insurance!" Adam has lived in the Chico area for just over 10 years. He originally came to Chico to play college baseball and never left. Adam is married and has three boys ranging in age from 7 down to 17 months. He enjoys spending time in the outdoors hunting and fishing as well as hanging out around the house with his family on their 40 acres. Adam, always having an entrepreneurial mindset, is able to relate well to business owners and speak their language. The insurance industry didn't start as a passion for Adam, but over the last 6 years has become something that is very near and dear to his heart. He truly believes in creating personal and meaningful relationships with his clients that go deeper than just a product or a service.

VP Professional Development
Leslie Williams
---
Open Positions:
President Elect
VP Political Action
VP Media Relations